I love this story because it demonstrates how Norma Shearer fought for what she wanted and even being married to the boss didn't guarantee her a free pass to any role. It also shows how Shearer overcame her flaws and never allowed herself to be in a situation she wasn't happy with. Go Norma!


==========================
Norma Shearer was known for her short hair and striking profile. A photograph of her would have likely shown Norma wearing her characteristic helmet of curls that would crown her temples. It was a look that the Queen of MGM carried with her throughout her talking picture career, only deviating for films such as Marie Antoinette and Idiot's Delight which required her to wear wigs.
However, a younger Norma in the silent era had a much different look. Norma had long flowing curls. They were frizzy, bountiful and glorious. She usually wore them up, tied in the back yet ocassionally she would let them loose and they would flow down her neck and shoulders.

Photographs of Norma in her twenties showed that she carried those curls in many different ways. Her hair was of various lengths and styles and it always looked different. I haven't been able to find much information about Norma Shearer's hairstyle which doesn't surprise me. I may be the only one to whom this matters and I doubt biographers Gavin Lambert and Lawrence Quirk ever cared about such triviality.

In the same way I obsess with Bette Davis' blonde look, I simply adore the long curly locks of Norma Shearer. Why? Because I secretly have long curly hair too. I say "secretly" because I wear mine straight, wavy or in ironed curls. I'd like to think Norma Shearer's hair was naturally curly like mine. We both found ways to tame of our locks to flatter our appearance, but hidden beneath the surface were wild curls just waiting to spring into their natural state.

========================
Sunday March 29th to Saturday April 4th

on Out of the Past ~ A Classic Film Blog
To celebrate my queen, for no reason other than I want to, I'm dedicating an entire week to her. Every day, I'll have a new post on Norma Shearer. It's all Norma, all week long!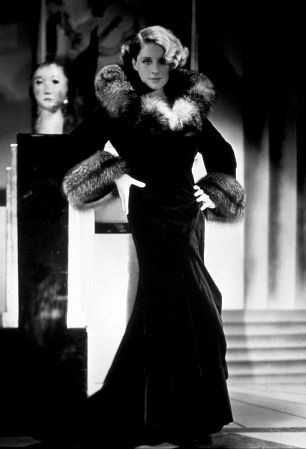 Such adoration makes the Queen of MGM very happy...

Over the years that I have been watching Norma Shearer's films, it has been easier and easier to get access to them.

==================================
===================
=======================
=============================
Nick Charles (William Powell, shown here with Myrna Loy and Maureen O'Sullivan in
The Thin Man
(1934)) thinks the FNP birthday celebration calls for a drink. (Nick thinks most things call for a drink, actually.)
Jayne Mansfield phones with her congratulations.
(but we think she's just greasing for more exposure)
Beverly Michaels seems a little annoyed that nobody is making a big fuss over her birthday...
... but Hildegard Knef is very happy for us and doesn't mind sharing the spotlight.
Audrey Hepburn gets her hair done for the occasion...
... while Marilyn Monroe jumps for joy...
... and Elizabeth Taylor says she thinks FNP is Number One!
===========================
Dorothy Mackaill in "Silver Screen Magazine," August 1931 from
Allure
=======================
Gwyneth Paltrow in Sky Captain and the World of Tomorrow (2004)

Claudia Schiffer

Isabella Rossellini in Big Night (1996)

Asia Argento

Ali Larter in Resident Evil: Extinction (2007)

Sharon Stone in Basic Instinct 2 (2006)

Angelina Jolie

Pink

Kimberly Flynn

Ally Sheedy in I'll Take You There (1999)

==============================
Carole Lombard ca. 1929

Virginia Grey, 1939

Vera-Ellen in White Christmas (1954)

Marie Wilson

Jeff Donnell

Thelma Todd

===========================
Paulette Goddard in The Lady Has Plans (1941)
Ellen Drew and Warner Baxter in The Crime Doctor's Manhunt (1946)
Constance Towers in The Naked Kiss (1964)
Brigitte Horney in Secret Lives (1937)
Anna Magnani in Nella città l'inferno (1959)
CLICK NOW
COLLECTION OF WORLD'S BEST WALLPAPERS
WOW WHAT A BEAUTY
AMAZING NATURE
NATURE OF GOD
JAZZ OF LIFE
COOL PHOTOS BANK
BEAUTY OF WILDLIFE
BEST PHOTOS OF THE WORLD