Tony d'Ambra states at his place:
I will be reviewing a big backlog of noirs this year, and widening my focus to include reviews of noir fiction and books of commentary. Reviews will generally be shorter than in the past, with an emphasis on a particular feature of interest.
Movies slated for review include:
A Colt is My Passport (1967 Japan)
The Amazing Mr. X (1948)
Asphalt (1929 Germany)
La Chienne (1931 France)
Harikomi (aka Stakeout 1958 Japan)
The Las Vegas Story (1952)
Leave her to Heaven (1946)
The Long Night (1947)
The Mask Of Dimitrios (1944)
Obsession (1948 UK)
Obsession (1949)
Odd Man Out(1947 UK)
Of Missing Persons (1956 Argentina)
Out of the Past (1947)
Phantom Lady (1944)
The Phenix City Story (1955)
Private Hell 36 (1954)
Pursued (1947)
Railroaded (1947)
Raw Deal (1948)
Scandal Sheet (1952)
The Second Woman (1950)
The Sleeping City (1950)
The Sound of Fury (1950)
Strange Illusion (1945)
The Strange Love Martha Ivers (1946)
Sweet Smell of Success (1957)
Tread Softly Stranger (1958 UK)
The Unfaithful(1947)
The Unsuspected (1947)
The Web (1947)
The Well (1951)
The Woman On the Beach (1947)
Where the Sidewalk Ends (1950)
World For Ransom (1954)

============================
by Allan Fish
(Sweden 1917 73m) DVD1
Aka. Berg-Ejvin doch hans Hustru
I once dreamed of two people…
d
Victor Sjöstrom
w
Victor Sjöstrom, Sam Ask
ph
Julius Jaenzon
ed
Victor Sjöstrom
m
Torbjorn Ivan Lundquist
art
Axel Esbensen
Victor Sjöstrom (Berg-Ejvind), Edith Erastoff (Halla), John Ekman (Arnes), Nils Ahren (Björn), Artur Rolén (farmhand), Jenny Tschernichin-Larsson (Gudfinna), William Larsson (Bjarni), Sigurd Wallen,
Looking at Victor Sjöstrom's celebrated silent drama ninety years on is a bit of a daunting task. As one might expect for a film of its age, aspects of it have dated as they could not fail to do. It would have been just as easy to have just included his later works, but as with
Terje Vigen
,
Outlaw
is just too important to neglect, and one of the first films to really advance the art of cinematography. One truly can date outdoor photography from B.J. and A.J., Before Jaenzon and After Jaenzon.
Outlaw
is set in 19
th
century Iceland and details the story of Berg-Ejvind, harshly pursued for a small crime right to his very end. We first see him take a position at the farm of Halla, who initially takes him on a one month trial and with whom he falls in love. They are betrothed, but the law is after him for thieving, which he was forced into by the plight of his family. He and Halla run away into the hills, Halla knowing it will mean they're tarred with the same brush, and yet they live happily for several years, and have a child, but then Berg's friend Arnes comes to see them, sets his eyes on Halla and threatens to ruin their idyllic life. Sure enough, soon after the forces of the law come after them and the pair narrowly escape up into the farthest reaches of the outlaw-infested mountains and spend many years in isolation. Finally, trapped in their dingy abode with a blizzard still in full force after seven days outside, they both set out into the snow to die
==========================
by Allan Fish
This review is published here in memory of the master French director Eric Rohmer who died yesterday.
(France 1969 111m) DVD1
Aka. My Night with Maud
Pascal's Wager
p
Pierre Cottreill, Barbet Schroeder
d/w
Eric Rohmer
ph
Nestor Almendros
ed
Cécile Decugis
art
Nicole Rachline
Jean-Louis Trintignant (Jean-Louis), Françoise Fabian (Maud), Marie-Christine Barrault (Françoise), Antoine Vitez (Vidal), Léonide Kogan, Guy Léger, Anne Dubot,
The third of Eric Rohmer's Moral Tales,
Ma Nuit chez Maud
could be described as the ultimate romantic movie for intellectuals. Many would regard it as Rohmer's greatest film, even though it goes against his general practice of using non-professionals by casting famous actors to fill the shoes of its protagonists. It was also Rohmer's last film in black and white and, though that may seem a surprise after the sun-kissed previous entry
La Collectioneuse,
it was absolutely the right decision to film in monochrome. Not only because of the inherent cold analysis of the conversations of the characters but also because, intriguingly in retrospect, it's a film that could fall into another one of his themed series, his later Tales of the Four Seasons. The later
Conte d'Hiver
was a fine film in its own right, with faint echoes of Shakespeare's like-titled play and had a warm and typical Rohmerian lead in Charlotte Véry, but
Ma Nuiz chez Maud
could only exist in the winter. There's something altogether bracing about the snow in the film that not only provides excuses for its protagonist to be where he is on the two nights over which the majority of the film's action takes place, but also provides a deliberately faux fairytale quality that is unmistakeable.
===========================
by Allan Fish
(USSR 1924 86m) DVD1/2
Aka. Stachka
Never forget, comrades!
d
Sergei M.Eisenstein
w
Sergei M.Eisenstein, Grigori Alexandrov, Valeryan Pletnyov, Ilya Kravchunovsky,
ph
Eduard Tissé, Vassili Khvatov
ed
Sergei M.Eisenstein
Grigori Alexandrov (factory foreman), Maksim Shtraukh (spy), Mikhail Gomarov (worker), Aleksandr Antonov (member of strike committee), Yudif Glizer (queen of thieves), I.Ivanov (chief of police),
Imagine you were sitting down with someone with a deep knowledge of the seventh art, but someone who for whatever reason had never looked at Eisenstein. Or maybe he'd been for treatment
à la Eternal Sunshine of the Spotless Mind
to have Eisenstein removed. Either way, then picture yourself putting this film's DVD in the machine for him. You watch it, he's enthralled, amazed by the technique and the pace. Upon finishing it and exclaiming it a masterpiece, he's amazed to be rebuked and have you tell him that
Strike
was merely the smorgasbord from which Eisenstein nibbled before moving onto his main courses. To even suggest such a film wouldn't make my top five works of the director seems, to my hypothetical friend, the epitome of bluster. He'd laugh. I merely smile back at him knowingly, go off to perhaps fill each other's glasses and murmur, rather like Alec Guinness at the end of David Lean's famous Russian film, "
ah, but Potemkin, October, Mexico, Alexander and Ivan were still to come
." You leave the room, and go to the kitchen or the drinks cabinet, wherever you keep your beverage of choice, and find that he's followed you. "
Explain
", he says. Well, here's the explanation…or rather, in attesting
Strike
's brilliance, then think to yourself how good the later stuff must be
============================
Julianne Moore and Dennis Haysbert in Todd Haynes's 'Far From Heaven', the new millenium's best film
by Sam Juliano

The Wonders in the Dark 2000 to 2009 decade film poll will commence in early April at the conclusion of the marathon silent film poll now underway, and readers will be asked to forward their own Top 25. Still, with many blogsites posting their 'best of the decade' lists this week, I wanted to make sure that this site published such a presentation, even if it's my own list, and not Allan's. (Allan of course will hav ehis capsule reviews up for his Top 50, when the 2000 poll officially commences. Until then, here is the presently official Top 50 films of the 2000s. I have also decided to omit commentary, as we'll have quite a bit of that in April. Basically I have provided screen grabs and titles. The numerical listing is solely for drama, as there is only miniscule difference from number to number, if any. Hence my "Number 50″ is nearly as 'good' as my "Number 1." In fact I am really unconcerned about numerical placement at all, as several films here are actually too "low" and I realized it as I listed, even after deliberation (Eternal Sunshine, Werckmeister Harmonies, Jesse James all too low) But the point is that I will revise for the April polling. At this point this is a close enough approximation of my Big 50 of the 2000s. These are the 50 films that for me, have really raised the bar.

#2 Son Frere (Chereau) France
#3 The Fountain (Aronofsky) USA

#4 WALL-E (Stanton) USA
#5 The Return of the King (Jackson) Aus.
#6 Kings and Queen (Despletchin) France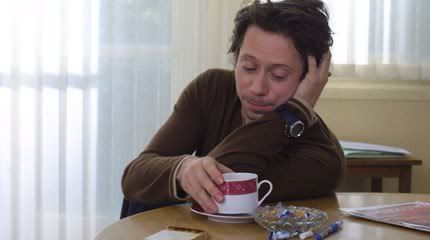 #7 The New World (Malick) USA
#8 Dogville (Von Trier) Denmark
#9 Bright Star (Campion) Australia
#10 Tropical Malady (Weerasethakul) Taiwan
==========================
by Allan Fish
(USA 1927 84m) not on DVD
The City is Yours
p
Hector Turnbull
d
Josef Von Sternberg
w
Ben Hecht, George Marion Jnr, Charles Furthman, Robert N.Lee
ph
Bert Glennon
ed
E.Lloyd Sheldon
art
Hans Dreier
George Bancroft ('Bull' Weed), Evelyn Brent ('Feathers' McCoy), Clive Brook ('Rolls Royce' Wensel), Larry Semon ('Slippy' Lewis, Fred Kohler ('Buck' Mulligan), Helen Lynch (Meg), Jerry Mandy (Paloma), Alfred Allen (judge),
It wasn't his first Hollywood film –
The Salvation Hunters
preceded it, along with uncredited work on
It
and the legendary destroyed Chaplin collaboration
A Woman of the Sea
– but it was the first true Von Sternberg film. It's sometimes seen as the first true gangster film, and though Griffith and Walsh predated it by over a decade, you can see where that opinion came from, for here is the prototype for the pattern that served the genre so well when it awoke from its slumber after the Crash in the early 1930s. It also was the film after which, as David Thomson observed, Von Sternberg settled for "
a private world of light and shade, romance and violence, strong men and mysterious women
===========================
Putting together a 'Best Films of the Year' list for 2009, was an extremely tedious and thankless endeavor, as it was impossible to accomodate all the films that I felt were worthy of such an honor, and in fact at one point or another seemed a certainty to make the final cut. Two of my personal favorites, genre films
Star Trek
and
District 9
failed to secure spaces in the final twelve, because eight "foreign" films (three French, one Japanese, one Australian, one Swedish, one Romanian, and one British) left room for only four American entries. After those four,
Star Trek
and
District 9
would have been next up. For the first time in over a decade, my #10 slot (traditionally a tie between two films) is now a three-way tie, making my "ten-best" list really a "dozen-best." All things considered, I don't think this is an unfair compromise at all, as I simply was unable to decide between the Japanese, French and British films that finally share that spot, and a placement in "The List." The quality difference between #1 and that three-way 10th place tie is minimal, meaning that the numerical routine is largely a one to create a dramatic unveiling. Still, I attempted to list them in this fashion and after much shuffling (I need to get a life, is there really any importance to this in the grand scheme of things? Ha!) I finally settled on the current allignment. Deciding the #1 position between Jane Campion's beautiful and intoxicating
Bright Star
and the visually spectacular
Avatar
was excrutiatingly difficult, but I am content with my decision. In any case, thse two films were cinematic "epiphanies" for me, and together they head up a list of impressive work from home and abroad. (note: I included comprehensive capsule essays for the Top 4, but after that I went with basic and brief summaries.)
#1 Bright Star (Campion) Australia
New Zealand-born director Jane Campion's rapturous film
Bright Star,
based on a biographical volume by Andrew Motion, tells the story of Keats's brief but intensely passionate relationship with 19 year-old Fanny Brawne when the poet was 24 and nearing the throws of the tuberculosis that eventually claimed his life in Rome a year later. As the film opens, Keats has just returned from a walking tour of Scotland with his friend, fellow poet Charles Brown, who is a neighbor of the Brawne family, which includes Fanny, 14 year-old Sam and 9 year-old Toots. it a difficult time for Keats financially, and Brown affords him vital assistance telling Keats: "Your writing is the finest thing in my life." Needless to say such a scenario lends itself to an upcoming conflict as Keats's blossoming affection for Fanny is rebuffed by Charles who accuses her of "making a religion out of flirting," but it's clear enough that there is some jealousy at play too. Charles feels that his friend's artistic soul is at risk by this affair, which is sure to mute inspiration. But at this point Keats is actually maturing even further, as both
Nightingale
and
Melancholy
are written at this time after the death of his brother Thomas to tuberculosis and a preminition of his own death to the same illness.
At the time Keats and Fanny begin their relationship, the poet had just completed his masterful
Endymion,
which opens with the famous lines ("A thing of beauty is a joy forever:/Its loveliness increases; It will never/Pass into nothingness; but still will keep/A bower quiet for us, and a sleep/Full of sweet dreams, and health, and quiet breathing.) Predictably the poem is rejected in literary circles back in London, but Fanny's a huge fan, and she's tried to impress Keats by immersing herself in the works of his heroes: Shakespeare, Chaucer and Milton. But Keats's poverty row status earns him no respect from Mrs. Brawne, who cares only about her daughter's financial well-being and not about love and happiness.
Bright Star
is really about Brawne, as Campion is content to utilize the poet's letters and prose as sensuous presence, even though the actor Ben Whishaw gives an affecting, if oddly withdrawn performance as the doomed romantic genius. (But in view of the real-life passing of his brother at that point, constant melancholy would be expected.) It's understandable that Campion, a fervent feminist would apply her focus on the female half of the short-lived relationship and its psychological and emotional underpinnings. It's clear that Campion was deeply moved by the tragic brevity of the Keats-Brawne affair, and she infuses the film with unabashed emotionalism, by wedding literature to music. It's hard not to react when one hears Abbie Cornish, (an Australian with a dark-eyed gaze) who delivers an exquisite and soulful performance as Brawne, reading of the poem "Bright Star" (printed at the outset of this essay) written specifically for her, in a pathetically sobbing and chocked up voice. And when the stunning
Ode to a Nightingale
("Where but to think is to be full of sorrow/And leaden-eyed despairs") is recited over Mozart's "Serenade in B, K. 361,
Adagio,
during the closing credits it's a sublime, emotionally wrenching moment that you know can only be experienced at the movies. But perhaps most significantly it's the silences and non-verbal interactions between Whishaw and Cornish that are the most effective here.
The cinematographer Greig Fraser makes excellent use of light and air in his quaint county settings, that always seems to bring awareness for nature even in the indoor segments. The metaphorical butterfly scene, rich in symbolism is a visceral highlight, but the real showcase is a ravishing field of purple flowers that has becoming an art house allure for fans. Janet Patterson's costume design in this film is revelatory, and it's home spun embroidering helps to forge some modest character metamorphosis, and a fine delineation of social class. It's the finest work of its kind in many a moon. First-time feature film composer Mark Bradshaw has written about 20 to 25 minutes of his own material to compliment the use of classical music and his mainly violin-laden work here is haunting, and a subtle undercurrent to the hard-earned emotions that realize full flourish in the final scenes.
By charting a direct path to the human heart, with compelling prosaic-style direction, Jane Campion tells a story in
Bright Star
that seemingly needed to be told, and the result is the director's best film, and one of the most piercingly beautiful in years. It's 2009's best film.
#2 Avatar (James Cameron) USA
Five years ago James Cameron announced that his next film would be a technologically astute blend of live-action and computer-generated imagry that would alter the cinematic landscape. His story of humans invading the planet Pandora in the year 2154, begins as an exploratory tale involving a team of two scientists and a crippled ex-Marine named Jake Scully who replaces his late twin brother in a scientific experiment, by which he assists in roaming the planet with other remote-controlled bodies, which have been cloned from human and indigenous DNA (the
avitars
of the film's title). This distant world is the source of a valuable and expensive mineral. The controlled beings are a close approximation of the of the planet's native
Na'Vi,
a tall, blue and cat-like species.
Jake begins his "sojourn" as an observer, and he soon discovers the beauty, enchantment and danger of Pandora.
But then the story takes a drastic turn when Colonel Miles Quaritch requests that Jake "spy" for the coroporate bosses, a request that Jake agrees to after he's promised exorbitantly expensive surgery to repair his damaged spine. Predictably, but no less compellingly Jake learns the culture and mores of
Na'Vi
tribe from a beautiful warrior Neytiri, with whom he immediately develops a permanent bond with. Of course the immersion into the tribe allows Quaritch to gain the tactical intelligence he needs to enact complete obliteration of the indigenous population. A large part of
large part of this number is located directly above the planet's biggest vein of the ultra-precious metal "unobtanium" and if the human leader of this mission, Parker Selfridge is unable to accomplish success by willing complicity, he's prepared to employ lethal force. Sully at first agrees with the plan, but after he (in his 'avatar' form) falls in love with Neytiri, the story borrows the white-turned-Indian plot thrust of
Dances With Wolves.
But Cameron is no fool and he knows the emotional prospects of a storytelling device where an oppressed people can rise up with the help of one, smitten by true love, and shoot an arrow into the advanced barbarians that threaten their very existence.
The narrative device is hardly original but it serves as a potent underpinning to the awesome spectacle that plays out here, culminating in a final hour of action-packed intensity that has the thrills of an endless roller coaster, filled with all the genre conventions, like hanging from the end of a cliff, falling in a canyon into a cascading river, or an all-out CGI battle, a la
Return of the King.
But Cameron and his technical staff have succeeded with some nifty digital deception that has raised the bar for such technology. Hence
Avatar
pulsates, almost breathing a life of its own in it's conversion from movie to immersive experience. A dominant percentage of the film's locations are quite apparently CGI too, inducing one to wonder if they should called this an "animated film with live-action" or a "live-action film with some animated aspects and sequences." Such is this seamless immersion of what is real and what is not to create an illuminative world of arresting images, swirling, incandescent colors and an awe-inspiring beauty that elevates one's consciousness to a
to a state of spirituality rarely aspired to, much less achieved in any film. There is an arresting naturalism that almost leaps off the screen which is populated by sumptuous images of day-glo vegetation and the exotic creatures controlled by the
Na'Vi.
The lengthy stretches of the movie that are sensory and wordless are as rapturous (very much in tone poem mode) as anything every seen on the screen, and this kind of visual cinema, where narrative is more of a hinderance than a benefit, is
Avatar's
most extraordinary quality and it's true selling point. It's true that Cameron keeps insisting that the film needs to tie together plot strands, but this was unecessary, if not particularly harmful. In this sense, it's to be noted here that some critics have taken issue with the pedestrian nature of a dialogue, a point I reject in the name of cinematic purity.
Avatar
is neither a satiric comedy nor a trenchant stage drama. Characters and words tell the story, but they are pawns to purvey cinematic expression. Those who are awed by and feel the film's magic won't feel the simplistic dialogue which seems to combine New Age expression and macho agression, is either abnormal or detrimental. That said, it's abundantly clear that Cameron's storytelling prowess widely trumps his talents as a writer of prose.
But it all comes down to the wonderment and astounding visual tapestries, accentuated by the metamorphosis of a character who sees the inherent beauty in a culture ravaged by war, internal strife and foreign invasion. This creates in the viewer an emotion so powerful that it defies description. It's almost like you found some clues to the meaning of life. But short of those lofty aspersions, the film raises questions of mortality and existence (much in the style of Darren Aronofsky's The Fountain- a giant willow tree holding the meaning of life for all living things echoes the Tree of Life in Aronofsky's film) and with a ruminative flow that recalls Terrence Malick) that turn a futuristic planetary action thriller into a far more profound philosophical experience. The blend of mysticism and environmentalism evident in Avatar also suggests Japanese filmmaker Hayao Miyazaki, whose influence might also be discerned in the scenes of awe and wonderment set in the centerpiece forest sequences. Avatar is so overwhelming that any objections to pedestrian dialogue or plotting are really beside the point. This is no movie but an "experience" that has become all too rare these days.
#3 35 Shots of Rum (Denis) France
Enigmatic French director Claire Denis has long ignored traditional plot conventions and a preponderance of dialogue to craft seemingly oblique dramas that have favored physicality and wordless expression. The noted auteur stays the course in what can rightfully be seen as her most accesible film to date,
35 Shots of Rum,
a purposely aimless study of a short time in the life of a small group of Parisians. Typically, Denis doesn't rush to present the relationship between characters, and only gradually does the audience discover the revealing narrative data. And with a noted sparcity of dialogue, her films, this one included, have been maddening for some cinematic prospectors who desire more than the meagre narrative information on display. The fimmaking style here is abstract, and any hint of linear structure is dashed by small snippets from the characters' lives which posess little continuity to mirror the way characters meet and interact in real life, which is also a series of encounters and time spent together with no necessary order or sequence.
The obvious influence of the great Yashujiro Ozu's 1949 masterpiece
Late Spring
becomes apparent, even without a blunt admission from Denis herself, who explained in an interview for
Daily Plastic's
Robert Davis: "I've been dreaming for many years of making an homage to Ozu, because actually it's the story of my grandfather and my mother. She was raised by her father. And once I took her to see a retrospective of Ozu, and she really had a sort of shock to see that film [
Late Spring
]. That was like maybe ten, fifteen years ago, and I told her, "Maybe, once, I will try to make a film like that for you." The film's central focus is on a widowed train conductor named Lionel (played by Alex Descas) who was previously employed in the overseas department at Guadeloupe, and his daughter Josephine (Mati Diop), who reside in a Parisian housing complex with Lionel's ex-girlfriend, chain-smoking Gabrielle (Nicole Dogue) a taxi driver with doleful eyes, and Noe (Gregoire Colin) a good-looking young man who is dating Josephine. The relationships are well-established at the beginning of the film, so there isn't any need for any kind of exposition. So the stage is set for the the central plot machination in
Late Spring,
where the daughter must begin the new phase of her life apart from her parent.
Yet it's clear enough that the father and daughter initially seem unable to show any affinity for making any major changes, and much of the film is an emotional stalemate of sorts, compounded by their symbiotic existence. Yet there is more than a hint in the film that cessation of movement, a major theme in
35 Shots of Rum,
can result in tragic consequences as in the scene where Lionel discovers the body of a recently retired fellow worker. Lionel equates this death symbolically to the failure to "switch tracks." As in Denis' previous films, the actual 'drama' is in the commonplace when nothing happens, except for extended looks or glances and the communication of whispers. Yet the film isn't any kind of a puzzle or mystery, as Denis is far more interesting in how the characters interact, how they feel, and what decisions they reach. She's interested in the
fabric
of their lives, not the specifics of what is resolved.
The issue of dependence is and inter-connection is given supreme definition in the film's most extraordinary scene, (in fact one of the most unforgettable scenes in any film this year) when the four characters take refuge in a restaurant during a rainstorm and commence some slow-dancing to the Commodores' "Night Shift." Considering the complete dearth of dialogue, it's rather astounding what is effectively communicated here: trepidation and aspirations, and what these people really want and need in their life. There's clearly a fear of human connection the retreat into privacy is a kind of human shield to avert being hurt. Long-time Denis collaborator, cinematographer Agnes Godard helps to accentuate the dimly-lit interiors, and close-ups are dominant. It's somewhat miraculous how Denis is able to employ minimalism to stir this kind of character depth. It's a scene of repressed energy, and it's Denis' trademark. Orchestrating the filmmaker's focus and vision the four principals deliver affecting and finely-modulated understated performances that create full-bodied characters who navigate tenuous emotional waters. Unsurprisingly, Descas and Diop are the catalysts for connecting people with events, and their work is studied and technically adroit. Denis again examines ethnic diversity in contemporary France with great insight, and in the end
35 Shots of Rum
is one of her most accessible works.
#4 Up (Doctor) USA
A silent poetic montage that opens Pixar's latest animated offering, titled
Up,
follows Carl and Ellie–two children who develop a close friendship that leads to marriage, bliss and dreams of travel and a far away paradise in the southern hemisphere. The sequence shows both the moments of triumph and adversity and in so doing chronicles the timeless life concerns of love, loss and the passage of time. But when Ellie gets sick and passes on leaving Carl to make a fateful decision, the film segues into a fantasy inspired consciously or not by Virginia Lee Burton's Caldecott Medal-winning picture book
The Little House
, which presents the life cycle of a house being implanted by industrialization, and Albert Lamorisee's beautiful French short
The Red Balloon,
which features a boy whisked up into the air by colorful balloons to attain a spiritual nirvana. It's a priceless sequence, imbued with sweet poignancy that surely ranks among the best work done in any animated film, and it's difficult to sustain. Yet, in large measure,
Up
doesn't violate the precious delicacy of its celebrated opening, and utilizes a deft combination of humor, fantasy and adventure to produce what is surely one of the studio's three best films. (
WALL-E
and
Ratatouille
are the others). Apart from the superhero-dominated
The Incredibles,
this is the only Pixar movie that features human beings in the major roles.
by Sam Juliano
==============================
by Allan Fish
(USA 1920 71m) DVD1
The curse of the red men
p
Maurice Tourneur
d
Maurice Tourneur, Clarence Brown (uncredited)
w
Robert Dillon
novel
James Fenimore Cooper
ph
Philippe R.DuBois, Charles Van Enger
m
R.J.Miller (1993 reissue)
art
Fluyd Mueller, Ben Carré
cos
Ben Carré
Wallace Beery (Magua), Harry Lorraine (Hawkeye), Barbara Bedford (Cora Munro), Alan Roscoe (Uncas), Lillian Hall (Alice Munro), Henry Woodward (Major Heyward), James Gordon (Colonel Munro), Theodore Lorch (Chingachgook), Boris Karloff (Indian),
There have been many versions of Cooper's classic tale since the dawn of sound and yet somehow none of them come close to the power of this silent masterwork. One particularly recalls the 1936 version with Randolph Scott as Hawkeye and Bruce Cabot in another typically nasty portrayal as the villainous Magua, while I can still recall watching the Michael Mann 1992 effort in my local cinema with a sense of disbelief. Not at the film necessarily, which was serviceable enough, but in the way the plot had been put into a blender until it bore no relation to the original novel whatsoever, even killing off the wrong sister and turning said wrong's sister's romantic aspirations towards Hawkeye, not the noble Uncas. For all its old school captions of 'dark hair', 'yellow hair' and 'red men', this 1920 classic was more faithful and not half so long drawn out.
==========================
by Sam Juliano
Happy New Year's to All
Wonders in the Dark
staff and readers! Here's hoping 2010 will bring mutual health, happiness and the attainment of all that is sought out. As expected many bloggers took some time off, as well they should have to spend with family and to enjoy a modest block of time away from work. Others, yours truly included, spent time in movie theatres to catch the final wave of releases before the expected lull for the next three months. But that's areprieve that isn't such a bad thing. Allan's silent poll countdown has faithfully proceded, and as always more than a few have left impressive responses. With year end lists beginning to appear, the one at
Wonders
may go up on Tuesday morning, complete with capsule assessments and screen grabs. So far, Ari, Just Another Film Buff, Andrew Wyatt and Matt Lucas have published their lists at links provided in a recent post. Craig Kennedy at
Living in Cinema
is nearing his own elaborate post as well. At
GoodFellas,
Dave Hicks has announced a January 11 launching of his gleefully-anticipated noir countdown. Best Regards always to our dear friend Down Under Tony d'Ambra, who has been a friend to us in so many ways.
I saw three films in theatres this week:
It's Complicated *** 1/2 (Wednesday night) Edgewater multiplex
The Lovely Bones **** (Friday night) Village East Cinemas
The Messenger *** 1/2 (Saturday night) Cinema Village
IT'S COMPLICATED showcased yet another accomplished performance by Meryl Streep in a film that wasn't anything new (yes Chuck Bowen, Nancy Myers is hardly Orson Welles!) but was still reasonably entertaining. Not the most probing of films, but oddly engaging with a few uproarious moments. No problem with Steve Martin or Alec Baldwin either. Just don't expect all that much in psychological depth.
The castigation of Peter Jackson over his direction of THE LOVELY BONES has been an unfortunate backlash against his prior work, but truth be said THE LOVELY BONES isn't such a bad film at all. Yeah, it's use of computer-generated effects may be excessive, but underneath everything there's a deep sense of humanity that at times makes the film a deeply-moving experience. Not every idea works, but there's enough imagination in the astral passages and some wrenching observation of family grief that makes it a valid adaptations. And Ms. Ronan is wonderful in the lead. I think Jackson is in the doghouse these days, but this film doesn't deserve the drubbing it took by the majority of critics.
THE MESSENGER is a well-acted military drama that centers around soldiers who are assigned the unenviable task of telling families of soldiers killed in action that their loved ones are gone, but it's late attempts at romance are awkward an dunconvincing. Ben Foster, Woody Harrelson and Samantha Morton (as well as the distinguished actors of the victims' families) give convincing performances, and the first two-thirds of the film is compelling, but then it loses steam when it stops following the vital linear thread. Still, a reasonable accomplishment.
I also saw three works from Allan's backlog, inluding a nine-hour LITTLE DORRIT BBC production directed by Andrew Davies, the multi-hour THE THICK OF IT, upon which the theatrical film IN THE LOOP was based, as the superlative Film Museum DVD of Pabst's silent masterpiece THE JOYLESS STREET.
So what did you people see, listen to or experience? Perhaps Dave or Joel can keep us abreast on the football, and Troy on the college and professional hoop scene.
===========================
by Allan Fish
(France 1921 350m) DVD2 (France only, no Eng subs)
Aka. The Three Musketeers
All for one and one for all time
p
Henri Diamant-Berger
d
Henri Diamant-Berger
w
Auguste Maquet
novel
Alexandre Dumas, père
ph
Maurice Desfassiaux
art/cos
Robert Mallet-Stevens
Aimé Simon-Girard (d'Artagnan), Henri Rollan (Athos), Charles Martinelli (Porthos), Pierre de Guingand (Aramis), Pierrette Madd (Constance), Jean Joffre (Bonancieux), Jeanne Desclos (Queen Anne), Édouard de Max (Richelieu), Claude Mérelle (Milady de Winter), Charles Dullin (La Père Joseph), Henri Baudin (Rochefort), Maxime Desjardins (Treville), Armand Bernard (Planchet), Louis Pré, fils (Grimaud), Antoine Stacquet (Bazin), Marcel Vallée (Mousqueton), Gaston Jacquet (Lord de Winter), Germaine Larbaudrière (Duchesse de Chevreuse),
Hands up those among you who know the name of Henri Diamant-Berger? Those who do, give yourselves a pat on the back as you won't find him listed in many film books. He's very much a forgotten figure in cinema history, at least outside of France. He became known as much as a producer and film critic and theorist as a director, and had an obsession with France's cultural heritage. To sum him up is not easy, but I would say that he is the perfect mixture of Louis Feuillade and Raymond Bernard. That is to say a director who was most at home in the instalment narrative form of the serial, and who, rather than tell modern crime stories like his predecessor Feuillade, wanted rather to tell classic tales of yore. His favourite, for he later filmed it again in the early thirties with largely the same cast, was Dumas' cherished tale of romance, derring-do and friendship.
===========================
by Allan Fish
(Germany 1922 270m) DVD1/2
Aka. Doctor Mabuse, the Gambler; The Great Gambler/Inferno; Doktor Mabuse, der Spieler: Ein Bild der Zeit
The world shall learn who I am
p
Erich Pommer
d
Fritz Lang
w
Thea Von Harbou, Fritz Lang
novel
Norbert Jacques
ph
Carl Hoffman
ed
Fritz Lang
m
Robert Israel
art
Otto Hunte, Erich Kettelhut, Karl Vollbrecht, Stahl-Urach
cos
Vally Reinecke
Rudolf Klein-Rogge (Dr Mabuse), Alfred Abel (Count Graf Told), Gertrude Welcker (Countess Dusy Told), Paul Richter (Edgar Hull), Aud Egide Nissen (Cara Carozza), Bernhard Goetzke (State Attorney Norbert von Wenk), Robert Forster Larrinaga (Spoerri), Georg John (Pesch), Julius Hermann (Emil Schramm), Lydia Potechina,
Here we have that ultimate pfennig dreadful, the grand-daddy of all criminal mastermind movies, as well as the inspiration behind two further sequels; the excellent
The Testament of Dr Mabuse
(see later essay) in 1932 and the not so excellent
The 1,000 Eyes of Dr Mabuse
in 1960. For decades it was only available in a shortened export version, which trimmed the two part epic into one film of barely ten reels. Eventually a 229m version surfaced in the early nineties, which seemed definitive prior to Transit Film's restoration in 2000. Finally restored to its full length, it remains a film which, though perhaps a trifle tedious in places, nonetheless dazzles the eye and mesmerises you for its entire running time, as if Mabuse himself had directed it.
Doctor Mabuse is a psychoanalyst who uses mesmerism and other forms of hypnosis to variously cheat at the gambling tables, obtain secrets and make a killing on the stock exchange. He then uses a dancer at the Folies Bergère to give him secrets on another man, Edgar Hull, who he then cons out of a fortune, while he also manipulates a count and his wife, resulting in the death of the former. In the meantime, the State Attorney finds himself increasingly frustrated in his attempts to apprehend Mabuse, who literally seems to be above the law.
===========================
by Allan Fish
(Germany 1929 94m) DVD2
Is
this
need?
p
Erich Pommer
d
Joe May
w
Joe May, Hans Zsékely, Rolf E.Vanloo
ph
Günther Rittau
m
Willy Schmidt-Gentner
art
Erich Kettelhut
cos
René Hubert
Gustav Fröhlich (Officer Albert Holk), Betty Amann (Else Kramer), Else Heller (mother), Albert Steinrück (father), Rosa Valetti (Frau an der Theke), Hans Schlettow (Consul), Hans Albers, Artur Duarte, Karl Platen,
Joe May is largely a forgotten figure in critical echelons these days, overlooked in favour of the more accepted Germanic masters of the silent era, Lang, Murnau and Pabst. Certainly if his later Hollywood output was anything to go by, he deserved consignment to oblivion, but in the 1920s he was a film-maker as important as any other in Germany. He directed the first version of the two part
The Indian Tomb
, scripted by Thea von Harbou and Fritz Lang, who would go on to direct a remake/homage in 1958. He was also a man haunted by his own private life – his daughter, Eva, a rising star of the German cinema, shot herself at just 22 in 1924. It may explain, to a degree, the doomed, forlorn nature of the protagonists in his films, and the sense of duty. His other major work,
Heimkehr
, predated
Westfront 1918
as an indictment of the First World War, in this case the return of several soldiers after the armistice. Duty hangs heavily in the air, and that same feeling pervades every shot of
Asphalt
, his most famous and best film.
Out on traffic duty in Berlin, a young policeman, Albert, is called over to a jeweller's where a young girl, Else, is accused of stealing a valuable diamond. He takes part in a search of her person and belongings, and just when it seems the authorities cannot find the missing jewel, he finds it on the end of her umbrella. He takes her into custody and gives her chance to get her things from her apartment, but while there she stops at nothing to seduce him and get him to avert arresting her. Finally, he succumbs, and they become lovers, but Albert doesn't realise the full nature of her criminal involvement, which comes to a head in a massive argument which results in murder.
========================
by Allan Fish
(Germany 1926 66m) DVD1/2
Aka. Die Abenteuer des Prinzen Achmed
Searching for Peri Banu
p
Lotte Reiniger
d/anim
Lotte Reiniger
collaborators
Walter Ruttmann, Berthold Bartosch, Alexander Kardan, Walter Türck
ph
Carl Koch
m
Wolfgang Zeller
voiceover
Henrietta Garden
The history of animation has so long been dominated by the more conventional form known as cartoons, that any other style of the art has been overlooked. There have been many masters of animatronics and stop-motion animation, some of them working as animators, some as special effects co-ordinators. Names such as Ray Harryhausen, Willis O'Brien, Wladyslaw Starewicz, Nick Park and Jan Svankmajer are well known, but not so many people would have heard of Lotte Reiniger, even though hers is a name that should be on the tip of everyone's tongue
=======================
by Allan Fish
(France 1929 125m) not on DVD
Aka. The Marvellous Life of Joan of Arc
A state of grace
p
Marco de Gastyne
d
Marco de Gastyne
w
Jean-José Frappa
ph
Gaston Brun
historical consultant
Camille Vergniol
Simone Gènevois (Jeanne d'Arc), Choura Milena (Isabeau de Paule), Philippe Heriat (Gilles de Rais), Jean Toulout (Le Tremoille), Jean Debucourt (Charles VII), Daniel Mendaille (Lord Talbot), Georges Paulait (Loyseleur), Gaston Modot (Glasdall), Fernand Mailly (Capitaine la Hire), Pierre Douvan (Bishop Cauchon), François Viguier (Brother Pasquerel), Jean Manoir (Jean de Metz), Louis Allibert (Rémy Loiseau),
The first glimpse I had of Marco de Gastyne's
magnum opus
was, as for so many, courtesy of Brownlow and Gill's
Cinema Europe
, where the onus was on neglecting it in favour of Dreyer's more famous simultaneously shot
Jeanne
. Everyone knows Dreyer's
Jeanne
is untouchable, a thing as revered by cineastes as the real Jeanne is to the memory of every Frenchman. Yet de Gastyne's film, its star, and even Gastyne himself have been airbrushed from the canvas of late French silent film.
It follows the story to the letter, of the teenager from Domrémy called upon by God – or Saints Catherine and Marguerite, depending on your take on it – to lead the French in setting the rightful heir back on the French throne and driving the English devils back across la Manche. It's solemn from the very first caption, directly quoting that bastion of French historians, Jules Michelet; "
let us always remember that our country was born from the heart of a woman, from her tenderness and tears, and from the blood she spilt for us
."
===========================
by Allan Fish
(Germany 1927 105m) DVD1
Aka. Die Liebe der Jeanne Ney
23 karat in the parrot
p
Erich Pommer
d
Georg W.Pabst
w
Ladislas Vajda, Rudolf Leonhardt, Ilya Ehrenberg
ph
Fritz Arno Wagner, Robert Walter Lach
ed
Georg W.Pabst, Marc Sorkin
m
Timothy Brock
art
Victor Trivas, Otto Hunte
Edith Jehanne (Jeanne Ney), Uno Henning (Andreas Labov), Fritz Rasp (Khalibiev), Brigitte Helm (Gabrielle), Adolf E.Licho (Raymond Ney), Sig Arno (Gaston), Vladimir Sokoloff (Zacharkiewicz), Eugen Jensen (Andre Ney), Hans Jaray (Poitras), Hertha von Walther (Margot),
Somehow
The Love of Jeanne Ney
seems to have slipped by the serious Pabst scholars, as if hovering low in the sky to evade radar detection. He'd had his big success with
Joyless Street
, with Asta Nielsen and Greta Garbo, who was then shipped off to Hollywood. A year or so away and one icon coming the other way, Louise Brooks, would make her and Pabst art-house immortals in two films just before the close of the silent era.
The Love of Jeanne Ney,
made between the Garbo film and the later Brooks, just gets brushed aside, and the more I come to look at it, the more I wonder why.
It's set in the familiar world of Russia on the verge of the Bolshevik Revolution, and the eponymous Jeanne Ney is distraught when the man she loves winds up killing her father, Andre. She escapes to Paris to evade the Bolsheviks, but her lover, Labov, with the help of a comrade, sets off after her to make her his own. Also following them is the rascally, nay seriously evil, blackmailer/murderer Khalibiev. On arrival in Paris, Jeanne is shocked to see that her uncle Raymond cares only for his monetary conquests and not a jot for his blind daughter Gabrielle. Khalibiev meanwhile hatches a plan to marry himself to Gabrielle, then kill her and gain her father's inheritance for himself.
==========================
by Allan Fish
(USA 1925 143m) not on DVD
A little 'skirt duty'
p
King Vidor, Irving G.Thalberg
d
King Vidor
w
Laurence Stallings, Harry Behn, Joseph W.Farnham
ph
John Arnold, Henrik Sartov
ed
Hugh Wynn
m
Carl Davis (orig.William Axt, David Mendoza)
art
Cedric Gibbons, James Basevi
John Gilbert (Jim Apperson), Renée Adorée (Mélisande), Hobart Bosworth (Mr Apperson), Claire McDowell (Mrs Apperson), Karl Dan (Slim), Tom O'Brien (Bull), Claire Adams (Justyn Reed), Rosita Marstini (French mother), Robert Ober (Harry),
King Vidor's epic silent drama holds a place in cinema history for any one of a number of reasons. It was the film that propelled John Gilbert from the regular roster of stars into the supernova category where he could justifiably rub shoulders with Garbo and Gish. It was the film that propelled Vidor to the 'A' list of silent directors, alongside Griffith, de Mille, Ingram and Von Stroheim. Perhaps most importantly it was the most financially profitable silent film of them all, sending the fledging merged studio MGM so far into the black that they could not only take the spiralling costs and financial disaster of
Ben Hur
in their stride, but give Vidor
carte blanche
to make
The Crowd
as a thank you.
Jim Apperson is the beloved, spoiled son of a rich industrialist who has long been betrothed to childhood friend Justyn. Then America is called into the war and Jim signs up on the grand adventure with several friends. Despite his family's pleadings, he goes off to war with two friends and, once in France, they befriend a French farm girl. He falls in love with her, but keeps faithful to his fiancée back home. However, back home, Justyn has fallen in love herself.
=======================
by Allan Fish
(Norway 1926 105m) DVD2 (Norway only)
Aka. Brudeferden I Hardanger; The Bridal Party at Hardanger
Pining for the fjords
p
Rasmus Breistein
d/w
Rasmus Breistein
novel
"Marit Skjolte" by Kristofer Janson
ph
Gunnar Nilsen-Vig
m
Halldor Krogh
Aase Bye (Marit Skjolte), Henry Gleditsch (Anders Bjaland), Gunhild Schytte-Jacobsen (older Marit Skjolte), Alfred Maurstad (Vigleik Skjolte), Annik Saxegaard (Eli Skjolte), Vilhelm Lund (Tore Skjolte), Oscar Larsen (older Anders Bjaland), Martin Fiksen (Bard), Dagmar Myhrvold (Kari Bjorve), Henny Skjönberg (Tore's mother), Gustav Berg-Jaeger (Presten),
When one thinks of Scandinavian cinema in the silent era, Norway isn't the first country to come to mind. Indeed, of the four principal Scandinavian national cinemas, there's a case for saying that the Norwegian has been the least prestigious. Sweden may dominate and need no introduction, while Denmark had Dreyer and Christensen and others would follow. Finland, though generally lagging behind, still gave us Tulio, Donner and more recently Kaurismaki. What has Norway given us? Only one other film in this list – Per Blom's
The Ice Palace
, hardly itself a recognised film – and only a few others worthy of mention. Here, however, we have the great exception to the rule, Rasmus Breistein's
The Wedding at Hardanger
, and yet who has heard of it outside the most specialist and eclectic silent cinema enthusiasts? It was released on DVD in 2008 after a painstaking restoration which not only restored the quality of the footage but the length, and from the carcass of the 75 minute version that had previously been the only extant copy, arose the greatest film of not only Norwegian silent cinema but arguably their cinema full stop
======================
by Allan Fish
(USSR 1929 90m) DVD1
There was a mother who had three sons
p
Alexander P.Dovzhenko
d/w/ed
Alexander P.Dovzhenko
ph
Danylo Demutsky
m
Igor Belza
art
Vadim Myuller, Iosif Shpinel
Semyon Svashenko (Timos, the Ukrainian), Amvrosi Buchma (laughing-gassed soldier), Georgi Khorkov (Red Army soldier), Dimitri Erdman (German officer), Sergei Petrov (German soldier), Nikolai Kuchinsky (Petliura), A.Yevdakov (Tsar Nicholas II), Luciano Albertini (Raffaele),
Dovzhenko said about
Arsenal
in his autobiography; "
I wanted to make a film about the revolution. Not the palace revolution, but the revolution of peasants, workers and intellectuals, who made the revolution and then did not get anything for it
." The first thing that comes to mind is that Dovzhenko did well to keep these feelings to himself when he made it, or he may have followed many artists from Ukraine into the black hole of the prison camp purges. It's a commonly perceived notion that Dovzhenko was a Ukrainian nationalist, and yet at the time of the film's release he was a committed Bolshevik in favour of Ukraine's unity with Mother Russia. Even in
Earth
, his commonly accepted
magnum opus
, the film comes down in favour of communism, but there are hints of nationalistic ideology not far beneath the surface
CLICK NOW
COLLECTION OF WORLD'S BEST WALLPAPERS
WOW WHAT A BEAUTY
AMAZING NATURE
NATURE OF GOD
JAZZ OF LIFE
COOL PHOTOS BANK
BEAUTY OF WILDLIFE
BEST PHOTOS OF THE WORLD